Sleepnitez 8″ Wedge Pillow Alleviates Acid Reflux, GERD, Snoring, Backache, Neck Pain, Hip Soreness
Enjoy the complete Sleepnitez experience with the all-new Sleepnitez 8" Wedge Pillow. Featuring 3.25" of true high-density visco-elastic memory foam, the Sleepnitez Wedge Pillow delivers perfect ergonomic posture support for your head and neck. The Sleepnitez Pillow shapes around you for immediate pressure-relief and instant comfort that lasts the entire night, every night.
True High-Density Visco-Elastic Memory Foam
Rated Medium for excellent posture support
TENCEL® cover
Three Year Warranty (upgraded to lifetime warranty when you register your warranty)
Dimensions: 27.2" x 25.2" x 8"
The Sleepnitex Wedge Pillow provides relief for:
Snoring
Acid Reflux
GERD
Backache
Neck Pain
Shoulder Pain
Post-Operative Conditions
Coughs & Colds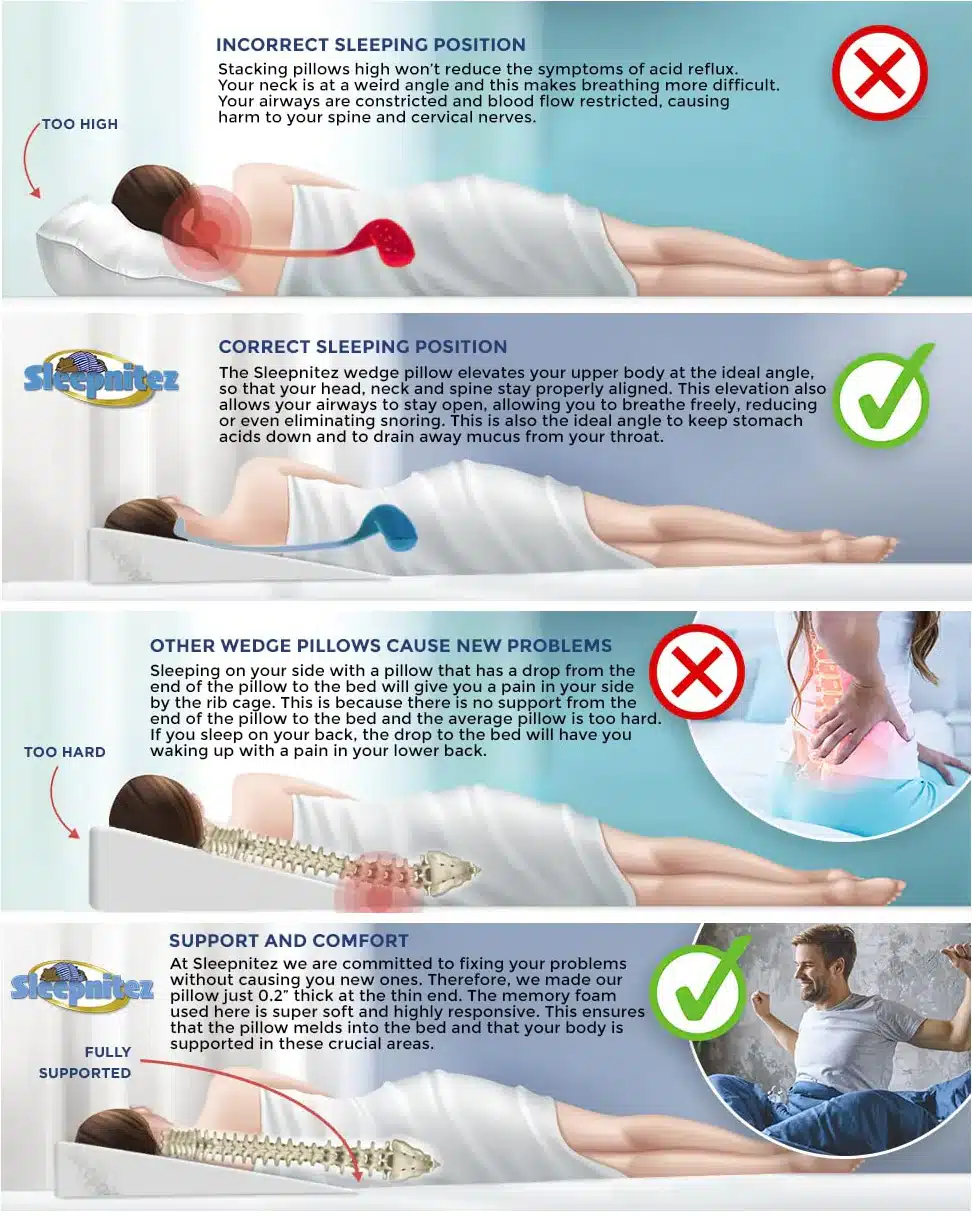 PROMOTES BETTER POSTURE
Our wedge pillow is not just for sleeping or lying down. You can also use it as a backrest against the headboard, on the couch, or on a chair while watching TV, working on the computer, or reading your book of the month. The gradual elevation of the pillow allows you to recline just enough to help your back and neck relax. It prevents slouching, discomfort, and pain due to a prolonged and improper sitting position.
Top Grade Materials And So Versatile
Our Wedge pillow can also be used with your own favourite pillow placed on top. This is something that side sleepers find particularly useful. It raises the head while allowing your shoulder to sink into our soft memory foam.
The Sleepnitez wedge pillow uses CertiPUR-US memory foam and therefore it has nothing that can harm your health and is made from the purest high quality foam.
This is why our wedge pillow does not have the nasty smells associated with other wedge pillows.
The Tencel cover is made by natural, biobased fibers, which makes sure that the fabric is safe for sensitive skin.
Post Surgery Pillow
After surgery, it can be difficult for patients to find the right position to sleep or rest without affecting the operated area. Depending on what type of surgery or medical procedure was done, the wedge pillow can help you find that comfortable position by providing the right support in the right places.
Use it to elevate the leg after knee or foot surgery to help relieve pressure and to reduce bleeding. Prop it under the thighs, highest side first, to help relieve pain after hip surgery.
Use it to elevate your body to ensure you can breathe properly. After shoulder surgery, you can use it for support, comfort and relief.
The wedge pillow can also be used to prop yourself up in bed when eating or reading.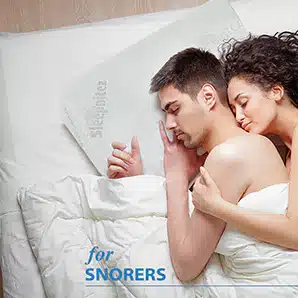 Anti Snoring Pillow
Snoring happens when you can't move air freely through your nose and throat during sleep. This makes the surrounding tissues vibrate, which produces the familiar snoring sound.
Snoring can lead to an irritated throat in the morning, waking up at night frequently, fatigue the next day, and headaches.
Standard pillows can often be the cause of snoring. They can put your neck in weird positions that prevent the air moving freely through your nose and throat.
The gentle slope of our wedge pillow keeps your neck in the ideal position to prevent snoring and allows air to move freely through your nose and throat.